#GOAHEADGIRL: GIRLTALK with Amber Farr Owner and Designer of Flynn Skye Clothing Brand
Amber Farr is the designer of Flynn Skye clothing, an affordable online boutique that mixes elegance and simplicity with sexiness and adventure. A universal spirit, she drew her inspiration mainly from her daughter, after which she named the brand, as well as the various places she called home: London, Malibu, Germany, France and more. Although Amber started out as a new designer, Amber's main goal was to break into the harsh world of fashion-wear and make a name for herself on an international level, using social media as a way to create a strong brand.
Our Editor in Chief sat down with Amber in a one-on-one exclusive and even had the opportunity to play around with the different fabrics used (which she loved!), making Flynn Skye clothing line #GIRLVERIFIED.
What is the point of wearing something that doesn't make you feel good? My vision for Flynn Skye has always been to create pieces that make women feel beautiful and sexy. If I can inspire women and make a few people happy along the way then for me the brand has been successful.
Flynn Skye happened by accident. When I was asked to design for Planet Blue, I had zero experience designing. It was an amazing learning experience! From that experience, I started to gain a passion for creating and wanted to keep working it. So I took the experience that I gained and created Flynn Skye!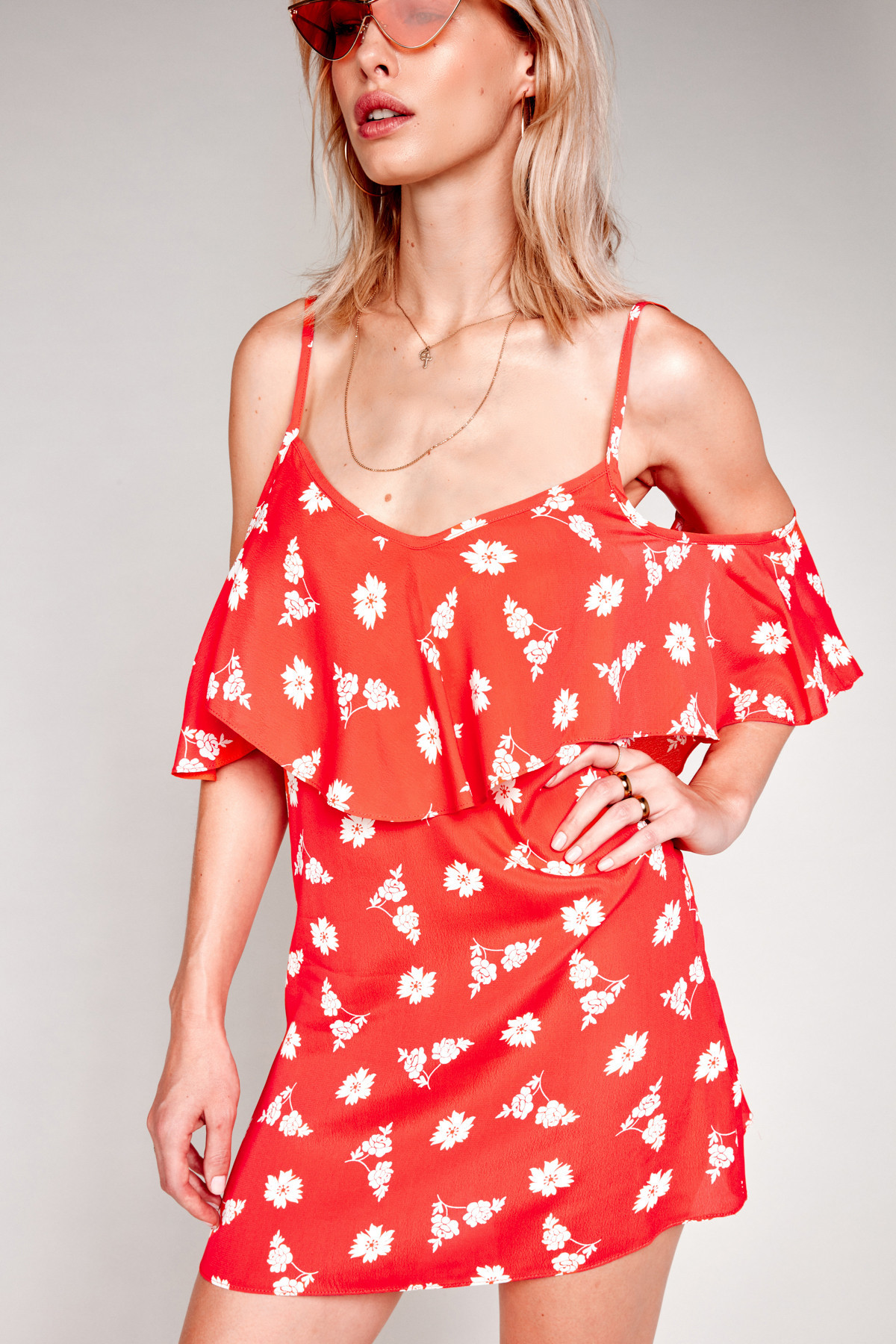 I am always thinking about the Flynn Skye customer, I love them, every last one of them. I do not design for me. I design for the woman who wants feel beautiful. I believe the reason that Flynn Skye has grown so quickly is that we believe in supporting other women and empowering one another. I also love paying it forward and giving back to my customer through many surprise giveaways through our social media channels.
What apps are you using?
I love Instagram!
Instagram has enabled us to create a strong brand voice and interact with our customers and fans. We have recently been using Iconosquare; it has allowed us to measure the success of posts. Through this app, you can see when is the best time to post/share the news with your followers and it is all based on your online community.
We are also huge fans of Pinterest. It has been a great device for us to share brand images that have allowed us to drive additional traffic to our site.
Mistakes happen.
I do not believe in mistakes. I am a quick learner, and once I experience a "mistake," it will not happen again. My biggest advice in this business is that you are going to make mistakes and you just have to learn from them.
It has all been a very "learn-it-as-I-go" adventure, and it has been an amazing one. I have not shared this before, but early on I found out that I could not sketch and I was insecure about this. One day I watched a documentary on Raf Simons, who until very recently was Christian Dior's creative director. Finding out that so many successful designers and creators in the fashion industry (even Vera Wang) struggle to sketch (like myself) made me feel at ease. I started to let go of that insecurity and am now able to design Flynn Skye with more confidence.
Business startup tips:
Tip 1: Start small and keep it simple. In the beginning, I ran Flynn Skye out of my garage in Venice; I had one employee (and someone part-time). It was not until about a year ago in which I realized we needed a team!
Tip 2: Work smart, not hard. Flynn Skye is a small team that accomplishes big things. We know when it is time to work hard and when it is time to play hard.
Tip 3: Keep your eye on the ball. I believe in manifestation, or visualizing the win. Setting goals for your business is an excellent way to work towards something, and that is something I always do for myself. Your brain is a powerful muscle if you visualize your success, I believe you can achieve it.
Surround yourself with a fantastic team:
Flynn Skye is a team. You will never hear me say "I" it is always "we" because without my incredible team Flynn Skye would not be successful and we would not be where we are with the brand today. The success and failures of Flynn Skye are something the team is all a part of; we truly are a family.
STRESS MANAGEMENT 101:
I make working out a priority for myself, and I meditate daily. I was an athlete my entire life, and I think being an athlete has transferred into how I handle running the business and the stresses it brings. I do not get stressed easily as I believe there is a solution to every problem. Moreover, if there isn't a solution, then I will do damage control.
I AM A #GOAHEADGIRL, HEAR ME ROAR!
Some say women are overly emotional, sensitive, a bit sarcastic and moody. What do you have to say to that?
We are lifting each other up!
100 pairs of shoes and only 2 feet! What was the last thing you bought for yourself?
THE PERFECT York leopard jacket and a very nice cashmere from THE PERFECT, that brand is dangerously good.
Guilty Pleasure:
If your cable package supplied only one channel, which would it be and what would you watch?
I am a documentary kind of gal and a huge Nashville fan! I am a Gemini, can you tell?
KEEP UP WITH AMBER FARR
*This interview was previously published. Due to the inspiring nature of the feature and rebranding of the original platform which is now BCG Publications all rights reserved for re-publish on beautycocktailsgirltalk.com.*