He's a Good Man! Jesse Metcalfe
Jesse Metcalfe is the definition of a "Good Man." Yes, he is extremely good looking and charming, that is a no-brainer, but I admired how honest he was and how he is entirely unapologetically himself. Jesse seems like the type of person you would go to if you want someone to give you a direct answer and not the one you want to hear (laughs).
He has already had so much success and is continually making GREAT moves in his career! We cannot wait to see his upcoming projects! All right ladies, grab your cocktail and start reading!
-Senior Editor Shruti Sadana
What's new?
I am about to go back to Vancouver to shoot Season 3 of the series Chesapeake Shores which is on the Hallmark channel. It is also on Netflix internationally. I have so much fun with that because I play a country music singer and I do sing and play guitar in real life. I write a lot of the music for the show so it is an opportunity for me to show people what I can do musically. It seems to be working. The show is getting great ratings and was picked up for a third season, so I am really happy about that. I have Escape Plan 2 coming out later this year with Sylvester Stallone, Dave Bautista, and 50 Cent. It is a sequel to the original. It is an action movie about a security team led by Stallone's character who is hired to break out of a maximum security prison. It airs in August-towards the end of the summer.

If you could have cocktails with anyone living or dead who would it be? What would be your first topic of conversation?
I am really into music so maybe....Mick Jagger. That would be pretty cool. He seems to have lived the ultimate musician's lifestyle. He had a crazy long career-it's had longevity. He has a lot of energy and stamina for a man of his age (laughs). I guess I would want to know his secrets to vitality. I would want to hear the story of the glory days of The Rolling Stones and some of the stories of the many ladies he had in his life and have a little guy talk (laughs). He seems like an incredibly interesting person, obviously, and an incredibly talented person so I am sure he had much wisdom to share.
What's the one product or item currently in your closet that you cannot live without?
One item that I cannot live without...is a great leather jacket. I always have a favorite leather jacket in my closet. At the moment, I have this leather motorcycle jacket from Saint Laurent that is probably my favorite. You always gotta have a great black leather motorcycle jacket.
If we were to spend a day in your life doing the things you are most passionate about what would we be doing?
Probably riding motorcycles...maybe doing a long journey with a group of really cool guys on some vintage motorcycles.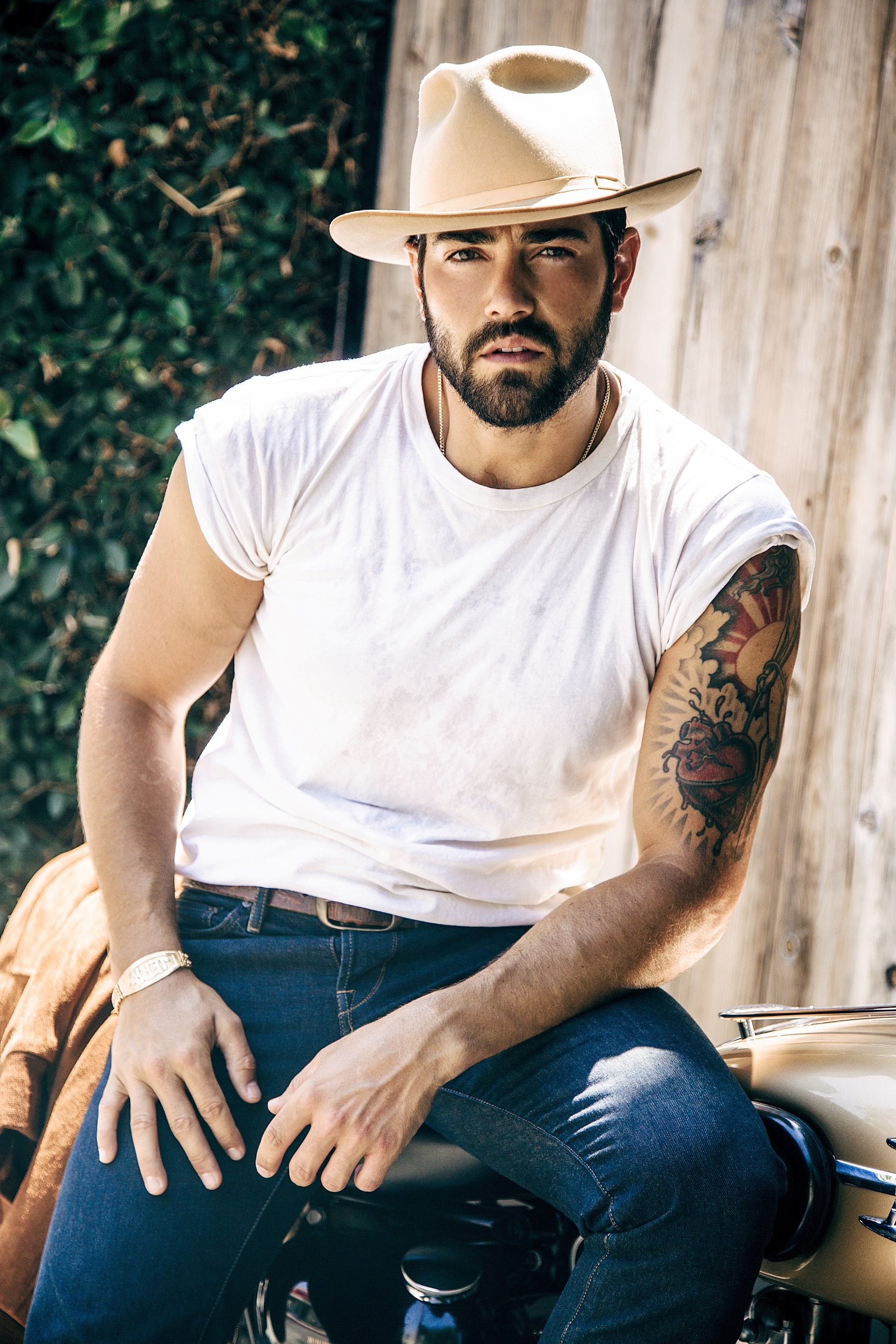 I believe in manifesting things and visualizing, sure. However, I think more important than that is doing rather than thinking about something or talking about something and then taking steps to achieve that goal.
This industry can be robust. Was there ever a time you felt discouraged or felt like "giving up?" How did you overcome that?
Yeah there has been a few times I felt discouraged. Probably once a week. You have to be very resilient in this business. Once you get some time under your belt-I have had nineteen years in this business and what was once important isn't important anymore. You hopefully gain wisdom and gain a different perspective. It is funny that you ask that question because I was watching a cool documentary last night on HBO (The Zen Diaries of Gary Shandling). Gary Shandling was a successful comedian, writer, and the host of It is Garry Shandling Show.
He had a television and film career, but he was a very emotional guy. He took everything that happened to him in his career and his personal life to heart. It ate him up. This business can eat you up if you let it. You have to be able to compartmentalize, and you have to be able to control your emotions because not everything that happens to you is an assault on you. You have to try to see things clearly and put things in perspective. Then there's also everything concerning what's written about you on the internet or in a magazine.
It is pretty easy after you have been in this business for a while to completely detach from that stuff. I do not google myself, and I do not read tabloid magazines. I do not have any desire too. I am not feeling this crazy struggle of "oh my god do I google myself today or do I buy US Weekly?" I could not care less and hopefully when you have been in this industry a while; you can get to that place. There are many people that never get there, but hopefully, most of us do. I have.
I work hard every day and try to maintain good relationships and friendships with people. I believe that good things happen for good people-people that are honest, have integrity and work hard.
As Albert Einstein said, "Imagination is everything. It is the preview of life's coming attractions." When you look back and reflect on what have you manifested for yourself, what are your thoughts? What do you see yourself manifesting in the next six months to a year?
Everything. I manifested everything along with having some good fortune. There's a certain amount of luck that comes into play as far as making it out here in Hollywood, but once you get that opportunity, I guess that is the luck part, it is about what you do with it. I am a firm believer in hard work. I believe in manifesting things and visualizing, sure. However, I think more important than that is doing rather than thinking about something or talking about something taking steps to achieve that goal. If you do something every day, which I do, to better myself as a person, as an actor, creator, an influencer then you are moving in the right direction. I am in a place in my life and career where I am saying "yes" to everything as opposed to being critical to "Oh, is this the right move?" I am trusting my gut a little more. I think that is something that comes with age. Everything seems to be playing out well. I think I am a better man than I have ever been. I have much structure in my life, and I also have a lot of love and support. I work hard every day and try to maintain good relationships and friendships with people. I believe that good things happen for good people-people that are honest, have integrity and work hard. That is where I am at right now. I cannot hope for much more than I have. I am in the third season of a show, I am getting nice opportunities on my hiatuses, and I do the things that I love with my spare time. There's been a lot emphasis for me lately on music. I just completed two semesters at the Musician's Institute for guitar. I am hoping to write and put out an album in the coming year or two.
We know you are in a great relationship with the beautiful Cara Santana. Share one secret behind making a relationship thrive.
There are so many facets to making a long-term relationship work that it is difficult to give that one answer to having a successful relationship. One thing that I would say is people that believe they are "good" in a relationship and that maybe the longest relationship they have had (four years, five years, six years) they have no idea. The biggest challenge and biggest reward come from when you have been in a long-term relationship over ten years. I think that once you reach that mark, it is really about hearing the other person, making time for the other person, understanding them, and sacrificing for them. That is really what makes a relationship work. It cannot be about you all the time.
 
---Finish this sentence….never have I ever….
Compromised my integrity. People will do almost anything to get ahead. I never have. At the end of my career, I hope to be taking a line from Frank Sinatra and saying "I did it my way."
*See this article on Apple News too... Search Style Verify on your iPhone.*
Photo Credits: Jesse's team
Keep up with Jesse on
MORE TO READ.